Rachel is an excellent practitioner who is committed to helping you feel better. I have been treated by her for months now and my symptoms have improved greatly, I believe as a result of my treatments. I highly recommend her and this practice.- N.B.
Meet Rachel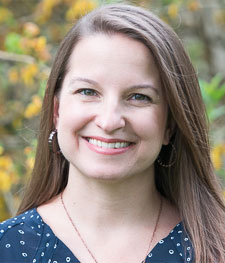 Rachel is a caring and dedicated practitioner with more than 12 years of experience helping people achieve their wellness goals. She is a Diplomate in Acupuncture from the National Certification Commission for Acupuncture and Oriental Medicine (NCCAOM), and currently holds licenses in Pennsylvania and New Jersey
My goal is to help people realize happier, healthier lives with the benefits of acupuncture. My training has included a variety of different acupuncture treatment styles, including myofascial trigger point release, Japanese style acupuncture, and traditional Chinese acupuncture. Drawing from such a wide array of strategies allows me to individualize treatment for each patient to achieve optimal results. Over the years, I have continued to witness the remarkable effects acupuncture can have. I look forward to seeing those same transformations in each new patient. Come see how acupuncture can make a difference in your health, in your life.

Philosophy

From ancient times and across different continents wise sages have spoken of the natural ability of the body, mind and spirit to exist in balance and harmony. Sometimes these elements are thrown out of balance by lifestyle, accident or illness. It is the goal of Chinese Medicine, of which Acupuncture is one part, to bring the individual back into state of balance and wellness. Though you may be facing a health challenge, there is always hope that it can be overcome and harmony of the body mind and spirit can be restored. Working with the therapies of Chinese Medicine can return you to the path of wellness more quickly than trying to navigate the path alone. As a patient of Great Spring Acupuncture, you and I will work together, along with your other healthcare providers, to help you reach your optimal state of wellness as quickly as possible.

Experience

Rachel's journey as an acupuncturist with more than 12 years of experience began as a young adult, when she was a patient of this ancient healing tradition. Her own positive experience, the resolution of lifelong symptoms, and the way acupuncture integrates body, mind and spirit impressed her. Seeing how Chinese Medicine went beyond treating symptoms to consideration of the entire person led her to choose acupuncture as a career path. The holistic approach of patient care continues to guide her today.

Rachel is a Diplomate in Acupuncture from the National Certification Commission for Acupuncture and Oriental Medicine (NCCAOM), and currently holds licenses in Pennsylvania and New Jersey. With a bachelor's degree in psychology from Rutgers University, Rachel pursued advanced studies at the Tri-State College of Acupuncture in New York City, and received a Master's Degree in 2001.
After graduating from acupuncture school and relocating to Cleveland, OH, she helped establish a successful acupuncture program at the Cleveland Clinic Center for Integrative Medicine (now the Tanya I Edwards MD Center for Integrative Medicine), where she was also the lead acupuncturist. She returned to the Philadelphia region and has established another successful practice in the Fort Washington area. Welcoming adults, teenagers and adolescents into her practice, Rachel uses her experience and expertise to manage her patient's health issues with special emphasis on acute and chronic pain management, women's health, immune system support, digestive disorders and the treatment of the individual to re-balance energies for total wellness.

Treatment Style and Strategy

Rachel's treatment style, based on the principles of Chinese Medicine, looks not only at the symptoms with which a patient presents, but also the root causes of the condition. Taking the time to do a detailed patient intake and connecting symptoms within a pattern are what makes a treatment with Rachel Rizzi truly personalized. Acupuncture points are carefully selected to ensure that there is symptomatic relief but also that the circumstances which brought the condition on are addressed.
Rachel's studies at Tri-State College of Acupuncture provided a foundation in several different styles of acupuncture, including meridian based acupuncture, myofascial trigger point release, traditional Chinese acupuncture, and Japanese Hara acupuncture, in the style of Kiiko Matsumoto. Rachel completed "Acupuncture for The Cancer Patient" training at Memorial Sloan Kettering Cancer Center in 2007. She currently serves as a referral resource for the Abramson Cancer Center of The University of Pennsylvania. The techniques and tools she incorporates into treatment include auricular (ear) acupuncture, cupping, gua sha, lifestyle counseling and dietary suggestions based on the principles of Chinese Medicine. Drawing from such a wide array of strategies allows her to individualize treatment for each patient to achieve optimal results

Visits
What can I expect during a treatment?
For an initial visit, patients should plan to bring the completed forms and wear loose-fitting, comfortable clothing. A gown will also be provided to change into. Please eat a light meal prior to treatment to ensure optimal treatment outcome. Upon arrival, patient forms are reviewed with the practitioner. Medical history and lifestyle are discussed in the context of Chinese Medicine. Part of the intake process is to look at a patient's tongue, feel the pulse and palpate areas of the body looking for discomfort. An acupuncture treatment follows once the patient and practitioner are satisfied with the intake discussion.
Treatments occur in private treatment rooms, complete with soft lighting and soothing music. The fine needles are inserted just below the skin; most patients only feel slight pressure or occasionally a slight pinch when the needles are inserted, but a feeling of relaxation quickly takes over. Once the needles are in place, patients can expect to remain on the table for about 20 minutes. Patients typically feel relaxed on the heated tables and many drift off to sleep for a time. The initial visit can last between 1 ½ to 2 hours and follow up visits usually last about an hour. Please plan accordingly.
Drinking plenty of water after a treatment will help to encourage healing. Healing times vary by symptoms and by the individual; however, many patients feel immediate relief from symptoms after treatment and continue to feel an improvement in symptoms for 24-48 hours afterwards.
How will I feel after a treatment?
A patient usually experiences deep relaxation during a treatment, which often remains after the session is over. Some patients feel very sleepy after a treatment; this is a normal reaction. The positive effects of acupuncture, such as pain reduction, are often be noticed as soon as the treatment is over. It is important for the patient not to over-strain areas which feel improved, as the body is still healing even after the needles are removed. Some patients may not notice an improvement in their symptoms until 24-48 hours after a treatment.
How much does a treatment cost?
An initial evaluation and treatment, which lasts approximately 1 ½ to 2 hours depending on the complexity of the condition being treated, costs $130. Follow up visits last approximately 1 hour and cost $85.
How can I pay for my treatment?
Payment can be made by cash, check and major credit card. Funds from Healthcare Spending Accounts (HSA) and Healthcare Flexible Spending Accounts (FSA) may be used to cover acupuncture treatment. Please check with your account administrator to ensure eligibility of coverage. Spending account users can pay with a benefits card or submit a receipt for reimbursement.
The patient is ultimately responsible for all treatment fees. We are happy to furnish upon request an itemized receipt for a patient to submit a claim if their individual insurance plan covers acupuncture care, however at this time Great Spring Acupuncture is not a provider for any insurance company.
Lateness and Cancellation Policy
In order to ensure optimal care, please arrive 5 minutes before your scheduled appointment time. This will allow you time to relax before your appointment. Those arriving late will be seen time permitting, but the treatment time may be cut short in order to accommodate the next scheduled patient.
Life can take unexpected turns. Should your schedule change and you need to cancel or reschedule an appointment, kindly give 24 hours' notice. This allows for your treatment time to be given to someone else. Failure to do so will result in a cancellation fee of $50.
Initial Visit
An initial evaluation and treatment lasts approximately 90 minutes and follow up visits last approximately 1 hour. In order to ensure optimal care, please arrive 5 minutes before your scheduled appointment time. This will allow you time to relax before your appointment.
Please eat a small meal prior to your appointment to ensure an optimal treatment.
No one under the influence of alcohol or drugs will be treated.
I really enjoy my visits to Great Spring Acupuncture. Rachel Rizzi is a very gifted and caring professional. I come away from her office feeling relaxed, energized and I can always see an immediate difference in the symptoms that brought me to her in the first place.- M.M.
Hours and Location
Patients are seen in the Fort Washington office by appointment only during the following hours:
Monday 1:30 p.m. – 7:00 p.m.
Tuesday 9:00 a.m. – 3:00 p.m.
Wednesday 9:00 a.m. – 5:30 p.m.
Thursday 9:00 a.m. – 3:00 p.m.
Friday 9:00 a.m. – 5:00 p.m.
455 Pennsylvania Avenue, Suite 290,
Fort Washington, PA 19034
(Get directions)
Located just minutes from downtown Ambler, Route 309 and the Pennsylvania Turnpike. With abundant free parking, we are a short drive from Blue Bell, Plymouth Meeting, Lansdale, Horsham, and Willow Grove.
Public transportation via SEPTA's R5 Lansdale/Doylestown Line is a short walk from the office.
I initially saw Rachel for frequent colds and viruses and since my first treatment 6 months ago, I have not succumbed to a cold yet! When I am feeling run down, I know I can schedule a "tune-up" to keep me healthy. I always feel better after leaving Great Spring Acupuncture.- S.E.V.
About Acupucture
What is Acupuncture? How does it work?
Acupuncture is based on the Chinese concepts of qi (pronounced chee) or vital life energy and meridians, the pathways on the body where qi flows. It is believed that illness and pain occur when there is an imbalance in the flow of qi along the meridian pathways. An acupuncturist seeks to correct this imbalance by inserting fine needles into points on the meridians so the proper flow of qi may be restored and healing may occur. Acupuncture has been practiced in China for over 2500 years and has been practiced in the West for more than 40 years.
Researchers have sought to understand the way acupuncture works from a western scientific viewpoint. What they have discovered are numerous ways acupuncture effects the human body, from the release of pain killing endorphins to the regulation of neurotransmitters. Although no one definitive mechanism of action has been identified, the use of functional MRI has shown specific areas of the brain are activated with the stimulation of acupuncture points. These areas of the brain are involved with the regulation of pain, stress, hormonal control and emotions.
Is Acupuncture Safe?
When practiced by a licensed professional, acupuncture is a safe treatment modality which can be used in conjunction with other therapies. Practitioners should use only sterilized single use disposable needles to safeguard the patient from any communicable diseases. Occasionally, there may be a drop of blood or a small bruise may develop around the site of the needle insertion. Although these are common, notify your practitioner if pain persists.
Does Acupuncture Hurt?
Many patients feel no pain when a needle is inserted. However some people may experience a pinching sensation or a sensation similar to a mosquito bite. If pain is experienced beyond initial insertion, it is important to let the practitioner know so the needle way be adjusted or withdrawn and the patient may rest comfortably.
What Can Acupuncture Treat?
Perhaps best known in the West as an effective treatment for pain, acupuncture may be used to treat a variety of disorders. The World Health Organization and the National Institutes of Health have indicated specific conditions which have been shown to be effectively treated with acupuncture. They include:
Disorders of the mouth: Toothache, Post extraction pain, Gingivitis
Gastrointestinal Disorders: Nausea and Vomiting, Constipation, Gastritis, IBS
Gynecological Disorders: Irregular periods, PMS, Menstrual Cramps, Menopausal Symptoms, Infertility
Musculoskeletal Disorders: Fibromyalgia, Osteoarthritis, Sciatica, Low Back Pain, "Tennis" Elbow
Neurological Disorders: Headache and Migraine, Trigeminal Neuralgia, Peripheral Neuropathies, Carpal Tunnel Syndrome
Respiratory Disorders: Allergies, Acute sinusitis, Common Cold, Bronchial Asthma
Is Acupuncture Effective?
Studies have shown acupuncture to be an effective treatment for conditions such as headache, osteoarthritis of the knee, low back pain, nausea and vomiting, and infertility. There are of course many other conditions that have been treated with only anecdotal evidence. Researchers continue to study the benefits of acupuncture to determine other conditions which it treats successfully.
Rachel of Great Spring Acupuncture is the best. After receiving a treatment by her, you will be a believer. She is thoughtful, insightful, and skilled.-E.J.